How I ended up in Colorado and why I made a website about it...
My name is Zach and I live in Lake City when I am not traveling around on shot gun adventures. Being located in the middle of the San Juan mountains with wilderness and national forests surrounding me is amazing. I see more wildlife in a day than I do people and am perfectly alright with that.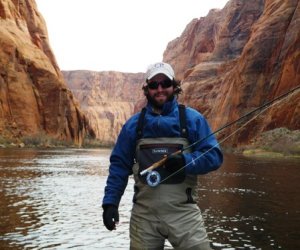 I make a living as a seasonal flyfishing guide but have found the off season to be a little rough financially. The job market is very limited and I had to find a way to earn money without relying on short term work. I decided to combine my love of the Colorado outdoors with a website and here I am. I get to explore the state and earn money for doing it.
It was the fishing that led me here but I can afford to stay because...
How I Made It Work
I love to explore and become intimate with every detail of a landscape but I found myself constantly trying to figure out a way to get the next tank of gas. I made sacrifices, spent the summers camping and basically lived out of my truck for several years.
Although I enjoy the lifestyle I wanted a solid base camp. Somewhere to hang my gear and sit on the couch when it is -30 outside. I scoured the internet for Work From Home opportunities and found the usual sketchy bit about getting rich and all the B.S.. I wanted to work for myself and wanted it to be legitimate.
After a long time searching I came across Solo Build It. I could not find a bad review about it and they even ensured that it would not be easy. After some considering I sent them a late night email about my skepticism and a real person called me the next morning. He did not try to sell me and talked for an hour about how the process works.
It was winter and took me 3 months to make up my mind before I took the plunge but I have not looked back. I made my first dollar after one month but it took a full year of hard work before I began earning a substantial income. I say hard work but in part I was roaming around the state enjoying every minute of time spent outdoors. The other part is time spent building the website!
I knew nothing about building a website but SBI provided step by step instruction and a simple to follow process. It was easy to get started and I ended up building a genuine website that gives me the chance to share valuable knowledge with everyone and I get to have fun while making a living.
I tried to pass SBI off after reading the Solo Build It scam reviews but the success stories made it hard to turn my head and I kept on returning to their website. I am glad that I capitilized on the opportunity and can now live on my own terms.



You might be comfortable and do not want anything to do with building a website. If that is the case then I am truly happy for you. But if you are looking to gain control of your life and have the opportunity to walk out the door and go for a hike whenever you please then consider Solo Build It.




























Leave About Page and Return Home