Colorado Cyclist and Mountain Biking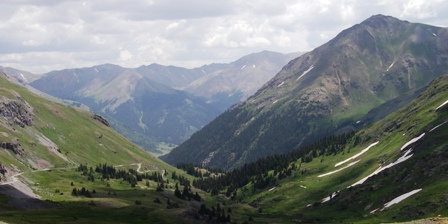 Coming Soon-In depth trail descriptions for all skill levels and Hut to Hut biking.
Colorado cyclist and mountain bikers test their lungs in some of the toughest terrain around. Join us on your quest to conquer massive hills and bomb down some wicked single track. On this page you will find some of our top picks for roads and trails. We are currently working on two more pages that will list a larger range of trails to accompany all skill levels. For now here are a few starters.

Favorite Mountain Biking Trails
Pikes Peak
A good climb means there will be a great downhill. Begin at the Barr Trail and go all the way to the Summit. The trail is not technical but it is a physical challenge. After reaching the summit you will be rewarded with a great downhill ride. There are a few switchbacks that require some caution but you can get some real speed beyond them. Take a camera for the top, the views are stunning.
Engineer Pass
In the heart of the San Juans this 4wd road is another physical challenge that puts you in the middle of stunning scenery. Start in Lake City, Silverton or Ouray but do not miss the Engineer Lookout a quarter mile uphill from the actual sign. If you want a multiday adventure there are many roads and trails that branch off the main course. Camping options are abundant and the area has plenty of historic mining towns worthy of a visit.
Favorite Roads
Highway 149
This scenic ride has very little traffic and makes a good climb. Start in Gunnison and make your way to Lake City, Creede, and South Fork. You will climb above the brush hills and follow the Lake Fork of the Gunnison to Lake City. This is a good place for a rest before you make the steep climb up Slumgullion Pass and Spring Creek Pass. After the two passes you will meet the Rio Grande River and follow it to Creede. Stop in Creede and enjoy the historic small town before following the river to the town of South Fork. Either have a shuttle waiting or stay the night and ride back to Gunnison the next day.





Leave Colorado Cyclist and Return Home