14ers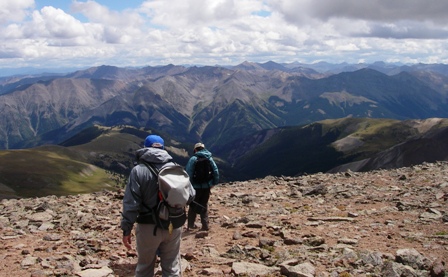 Colorado has fifty-eight 14ers waiting to be climbed. These majestic peaks range from short day hikes to difficult technical climbs but one thing remains constant.

The air is thin on top and if you are not acclimated, prepare to be light headed and make frequent stops. It is important to train hard and arrive early. Starting your hike early means avoiding dangerous afternoon lightening storms.

Also bring plenty of water and a few tums for altitude sickness.




The Adventure Team has created a regional breakdown that is easy to follow when planning your hike. We have rated each hike by the level of difficulty and given details necessary to summit.
There is not any mountain that is better than the next. They are all beautiful and unique and we recommend you hike as many as possible.
Elk Mountains
Front Range
Mosquito Range
San Juan Mountain 14ers
Sangre De Cristo Range
Sawatch Range

As we build and expand this section of our website we hope you will participate and share your photos,trip reports, stories and condition reports in the 14ers forums at the bottom of this page.
Our goal is to create a community where the information posted is useful for others who are preparing to climb. For the inexperienced it can seem like a daunting task to summit one of the peaks. We hope experienced climbers will share information and encourage the newbies.
Have A Great Story or a Favorite 14er?
We would love to hear from you!