Backcountry Flyfishing Lakes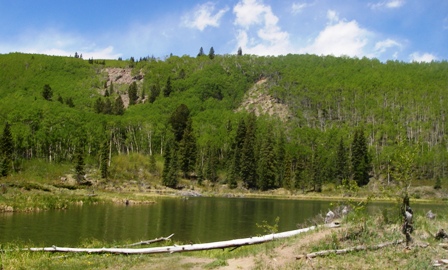 Unlike backcountry streams where you can often fish as you hike, the backcountry flyfishing lakes are waiting like a pot of gold at the end of the rainbow.

Sometimes it only takes a short hike but often it is the difficult hikes that produce the best fishing. Get ready to burn some boot leather and earn your catch in our backcountry lakes!

Most backcountry lakes are not difficult to figure out. General attractors usually work great. Bring a variety of dries, nymphs and streamers.

There are thousands of backcountry lakes in Colorado. Good things wait for those who are willing to explore and test new waters.

If you find a secret spot, keep it that way and enjoy it. Our recommendations are merely starters. In other words they are not secret but not highly pressured either.


Favorite Backcountry Flyfishing Lakes

Henry Lake
Drive to Almont and head up Taylor Canyon until you hit the Lottis Creek Campground. Drive to the trailhead in the campground and start walking. Keep your eyes peeled as you hike.

There are good populations of deer, elk and bighorn sheep in the area. This 12 mile hike can be done in a day but you will not have much time to flyfish.

We advise making it a two day trip. Bring attractors to target the cutthroats or go deep after the few large rainbows lurking in this beautiful lake.
Lonesome Lake

You will not feel so lonesome if you bring a rod to this beautiful lake in the Holy Cross Wilderness. Just off the Continental Divide this 9 mile hake will lead you to some fine cutthroat fishing.

The Holy Cross is one of our favorite wilderness areas and it has some great fishing for cutthroats. This is a good choice for your first and last backcountry trips of the summer. The you can begin and finish with a bang!
Crosho Lake
Located in the Routt National Forest you can actually drive to this backcountry lake.

When you arrive there may be pods of feeding cutthroats waiting, some of which can grow fairly large. This is one of our favorites for some great cutthroat action.
Square Top Lakes
Located near Georgetown a short hike to these lakes can be very rewarding. The Greenback cutthroats in here can grow very large.

They are selective and wary so keep a low profile to prevent spooking the fish. We advise taking advantage of the late summer season after the crowds have left for fishing here.


Leave Backcountry Flyfishing Lakes and Return Home