Backcountry Flyfishing Streams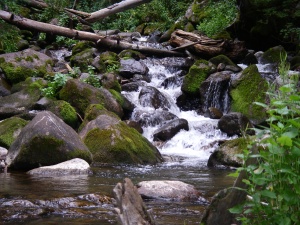 Come join us on some favorite backcountry fishing streams. We have remote cutthroats that are rarely touched by fisherman and they can grow large in certain areas. You will also find rainbows, browns and brook trout.

The best streams are the ones you find yourself and keep to yourself. You will be surprised at how productive some of the untouched backcountry streams can be. These are a few of our favorites without disclosing any super secret spots. You will have to find those for yourself.

A Few of Our Favorites
Big Blue Creek
This small mountain stream is tucked away in the San Juans off highway 149 north of Lake City. You can drive to the Big Blue trailhead and begin fishing where the dirt road ends.

This section does get a fair amount of pressure though. We recommend hiking down the trail a mile or two before you start fishing.

The farther you walk on this stream the smaller the fish are but it becomes a bit more productive. The scenery is also spectacular. This is a good area to take a pack and explore the blue lines on your map!
Elk Creek
This tributary to the Conejos is for the adventurous soul. Hike the 12 miles along the Elk Creek Trail and hit the water when you are ready.

We suggest you focus on the meadow stretches for fish up to 16" but we love scrambling on boulders and picking small trout out of the tough pocket water. This a spectacular little stream. Check out Fly Fishing Southern Colorado: An Angler's Guide
for more information.